Fire
Dancers
Our professional fire performers are hand-selected and recruited from all over the world. Every performer is 100% insured and licensed to perform with fire. Whether you want a solo fire breather to add ambiance to a party, or you're seeking a full stage performance with pyrotechnics, smoke bombs, full team choreography, and even fire stage props, this edgy art form will excite audiences and turn any event into a full production.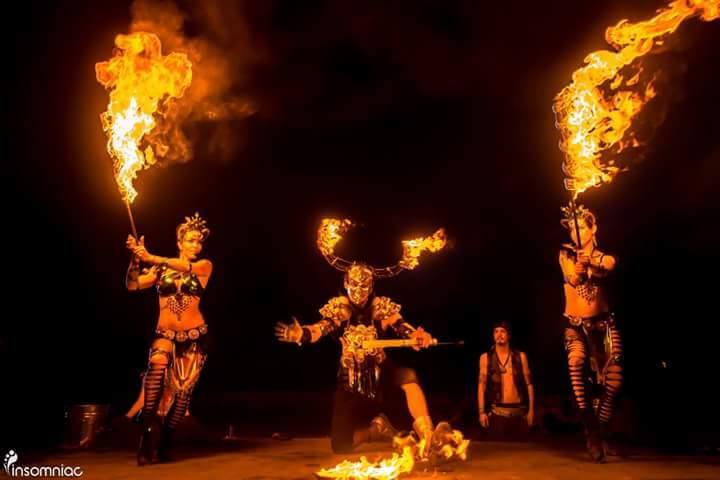 Quality
Because we have so many brilliant fire dancers, performers, and artists in a wide variety of industries, we've been able to pick the very best for re-inventing your event into a dynamic, thriving experience where people are lining up to get in and share the experience. If you've dreamed of making your event extraordinary, our world class fire entertainment will take you there.
Although you can tell a lot about a business or service by looking at its website, the best way to see understand what we can do is by receiving your free consultation over the phone or in person. Call today!
Fully Insured and Licensed

Costs in Advance

Industry Leading Technology
Services

 Fire Dancers
Whether you need to ambient performance or a full scale Las Vegas quality performance we have very proud to say we have access the largest performer network in the industry.

Flame Effects Operator
Do you need permits for your event? We have several fully licensed FEO Flame Effects Operators who can inspect your event location, prepare and provide all legally necessary safety precautions, handle all relations with the fire Marshals, and obtain all legal documents necessary to make sure your event is fully legal and safe.

Specialty Acts
We have a elite team of a wide variety of acts including aerialist, led light dancers, color smoke bomb artist, break dancers, acro yoga, living statues, stilt walkers, and magicians. Our performer network is always growing so if you have a request we can make it happen.

Art/ Stage Design/ Production
If it's time to take your event to the next level, our stage design team will get you there quickly and efficiently. We custom build props, full stages, signs, or anything else

Janeli Saucedo
WrenPublicity- PR & Event Director
EVENT- Fiesta San Antonio After Party for the King
Their agent took all of our events details and what we were looking for and then customized several options and invoices for my boss to review and choose from. They arrived early and went above and beyond to provide a detailed explanation of their show to our stage manager so we could get the timing correct. They blew every one away and we ended up paying them extra to stay longer.
We will definitely hire performers from them again!

James N.
EVENT- Private Corporate Holiday Party
Absolutely Amazing Performances. We hired entertainment for our company celebration and to show our partner companies and investors a good time and ended up getting a experience that none of our clients will ever forget! We were all absolutely blown away by the skill level of this show and had no idea that this kind of quality entertainment was even in our local area at all. We will be hiring again and again for sure!
ABOUT Fire Dancers of Texas
Determined to create something better, our company was formed to help connect the best fire dancers and variety performers with the best events. After investing thousands of dollars into training and equipping our brightest performers with state of the art equipment we decided we could do more. Now after 5 years of being at the top of the entertainment industry we have developed a complete production company with the capability to handling every aspect of event entertainment including stage design,  live music, and much more. With our available services growing each day we have still not forgotten our roots and still build the biggest and most brilliant fire performance shows available.
Because we understand what building events takes, we're always happy to go above and beyond for your event, reaching out to our extensive network of contacts to develop the perfect show so your company or private event can realize to joy of leaving you guests shocked and amazed.
We want to make you event unforgettable!